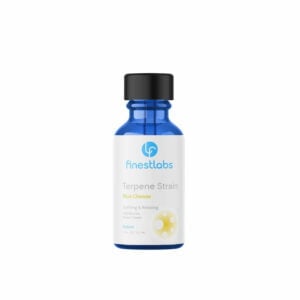 Add to Cart
Ingredients

Myrcene, β-Caryophyllene, Limonene, Linalool, Guaiol, Humulene, Nerolidol, β-Pinene, α-Bisabolol, Bitter Almond Oil Unspecified Data not available. 8013-76-1, p-Tolualdehyde, β-Damascone, α-Terpineol, α-Pinene, Valencene, Anisyl acetate, Nootkatone, Fenchol, Caryophyllene oxide, Benzyl acetate, Citral diethyl acetal, Citronellal, β-Ionone, Camphene, Borneol, Geraniol, Furfural, Ethyl Vanillin, Maltol, Trans-2-hexenol, Citronellol, Grapefruit mercaptan.

Caution

This product is intended for use only by adults 21 or older.

Keep out of reach of children and pets. Do not use if you are pregnant, nursing, or a person with or at risk of serious heath conditions. This product has not been evaluated for safe use in e-cigarettes or any vaping application where the product(s) is/are intentionally vaporized and inhaled.
Effect Profile
This terpene profile balances between heady and creative to heavy and sedating. It almost feels like the effects have more to do with your current mental state than anything else. It serves to amplify feelings of relaxation and drowsiness but can also clear the mind and make ideas flow with less resistance.
This is a great blend to use with other, more directive ingredients, like delta 10 THC for focus and stimulation or delta 8 to boost the sedative and muscle-relaxant qualities instead.
Last Updated This Week
FAQ
What Are Terpenes?
Terpenes are simple, highly volatile compounds found throughout the plant kingdom. They're responsible for the characteristic aroma of herbs like mint, lemon balm, lime, lavender, nutmeg, cannabis, and more.
How Much Should I Dilute My Terpenes?
Our ultra-concentrated terpene blends should be diluted to 5% or below the volume of the final product.
Terpenes dilute best in oil or alcohol-based mediums — such as creams, tinctures, oils, or soaps. If diluting into a water-based medium, the concentration should be 1% or less.
Does This Blend Contain Any Additives?
No. None of our terpene blends contain any preservatives, synthetic flavorings, or other additives.
Do Finest Labs Terpenes Contain CBD or THC?
No. Our extraction process removes any non-terpene cannabis-derivatives long before the blend is prepared and filled into the bottle. This product is entirely non-psychoactive and contains no cannabinoids or non-terpene botanical derivatives.
How Long Do Terpenes Last?
If stored in a cool and dark location and kept in the original airtight packaging, these terpenes should remain viable for up to 3 years.
If you plan to store your terpenes for longer than six months, you can keep them in the fridge to further extend the shelf-life.
How Do I Use Terpenes?
Terpenes can boost the flavor and effect profiles of cosmetics, soaps, oils, E-liquids, distillates, and more. These terpenes are highly potent. Just a few drops are enough for a standard 1 oz bottle of tincture.
What Our Customers Are Saying