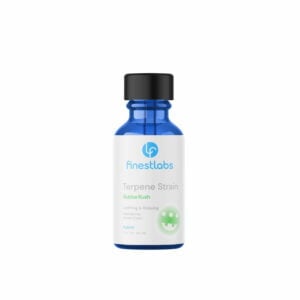 Add to Cart
Ingredients

Myrcene, β-Caryophyllene, Limonene, Linalool, Guaiol, Humulene, Nerolidol, β-Pinene, α-Bisabolol, Bitter Almond Oil Unspecified Data not available. 8013-76-1, p-Tolualdehyde, β-Damascone, α-Terpineol, α-Pinene, Valencene, Anisyl acetate, Nootkatone, Fenchol, Caryophyllene oxide, Benzyl acetate, Citral diethyl acetal, Citronellal, β-Ionone, Camphene, Borneol, Geraniol, Furfural, Ethyl Vanillin, Maltol, Trans-2-hexenol, Citronellol, Grapefruit mercaptan.

Caution

This product is intended for use only by adults 21 or older.

Keep out of reach of children and pets. Do not use if you are pregnant, nursing, or a person with or at risk of serious heath conditions. This product has not been evaluated for safe use in e-cigarettes or any vaping application where the product(s) is/are intentionally vaporized and inhaled.
Effect Profile
Bubba Kush contains a uniquely high concentration of terpinolene. This terpene is found in many cannabis strains but rarely takes the driver's seat. When it does, it gives the blend a boost in its sedative, oneirogenic, and muscle-relaxing qualities.
This is a great blend to add to formulas targeting pain, muscle tension, or sleep.
Last Updated This Week
FAQ
What Are Terpenes?
Terpenes refer to small, aromatic molecules found throughout the plant kingdom. They're responsible for the characteristic aroma and flavor of various plants, including lavender, nutmeg, mint, lemon, lilac, and much more.
There are thousands of terpenes in existence — each one with a unique aroma and effect profile.
How Much Should I Dilute My Terpenes?
Our terpenes come in pure form — which means you'll need to dilute them before you can use them safely.
Dilute these terpenes to a concentration of 5% or less. They blend best with oil or alcohol-based mediums.
If blending terpenes with water-based products, you'll need to dilute down to 1% or less for them to dissolve.
Does This Blend Contain Any Additives?
No. None of our terpenes contain additives or preservatives. This includes MCT oil, vitamin E acetate, vegetable glycerine, propylene glycol, or synthetic flavorings.
Do Finest Labs Terpenes Contain CBD or THC?
None of our terpene blends contain any cannabinoids or other non-terpene derivatives. Just pure, unadulterated terpenes.
How Long Do Terpenes Last?
As long as you keep terpenes in the original air-tight container and a cool dark location, they should remain viable for up to 3 years.
You can store them in the fridge to extend the shelf-life even further; avoid moving them in and out of the refrigerator too often, and avoid opening the container or storing them with bottles below 50% capacity.
What Our Customers Are Saying