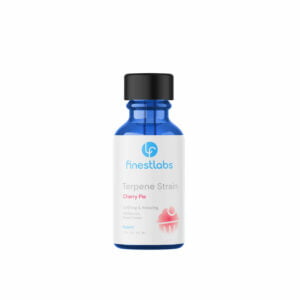 Add to Cart
Ingredients

Myrcene, β-Caryophyllene, Limonene, Linalool, Guaiol, Humulene, Nerolidol, β-Pinene, α-Bisabolol, Bitter Almond Oil Unspecified Data not available. 8013-76-1, p-Tolualdehyde, β-Damascone, α-Terpineol, α-Pinene, Valencene, Anisyl acetate, Nootkatone, Fenchol, Caryophyllene oxide, Benzyl acetate, Citral diethyl acetal, Citronellal, β-Ionone, Camphene, Borneol, Geraniol, Furfural, Ethyl Vanillin, Maltol, Trans-2-hexenol, Citronellol, Grapefruit mercaptan.

Caution

This product is intended for use only by adults 21 or older.

Keep out of reach of children and pets. Do not use if you are pregnant, nursing, or a person with or at risk of serious heath conditions. This product has not been evaluated for safe use in e-cigarettes or any vaping application where the product(s) is/are intentionally vaporized and inhaled.
Effect Profile
Cherry Pie is used for its tart flavor rather than its effect profile. This particular blend sits somewhere in the middle of the pack in virtually all categories. It isn't particularly stimulating nor relaxing, and it's only mildly euphoric. This strain shines in its mood-uplifting qualities, which come as a byproduct of the sweet aroma nostalgic of fresh fruit.
Last Updated This Week
FAQ
What Are Terpenes?
A terpene is a small molecule found in nature that carries a distinct aroma. There are thousands of unique terpenes, each with a slightly different chemical structure, smell, and effect profile.
Common terpenes in cannabis include limonene, myrcene, alpha-bisabolol, and linalool. Other plants have these terpenes as well, such as citrus fruits, mango, chamomile, and tea tree — respectively.
How Much Should I Dilute My Terpenes?
Our terpenes are ultra-concentrated, which means you'll need to dilute them down to 5% or less of the total volume of the final product.
Terpenes dilute best into alcohol or oil-based mediums — such as tinctures, creams, salves, soaps, or oils.
Does This Blend Contain Any Additives?
None of our terpene blends contain chemical additives, preservatives, or synthetic flavoring. Not only is there no need for this, but it also dismantles the high-quality product we've worked so hard to produce.
Do Finest Labs Terpenes Contain CBD or THC?
No. Our terpenes contain 100% pure volatile oils. There are no cannabinoids or other non-terpenoid cannabis derivatives inside.
How Long Do Terpenes Last?
Terpenes don't last forever, but they can remain viable for up to three years if stored correctly. For best results, keep terpenes in the original airtight container and store them in a cool, dark space away from heaters, windows, or air conditioners.
Terpene blends older than three years aren't dangerous or rancid — but the potency will significantly decrease if stored for long periods.
What Our Customers Are Saying