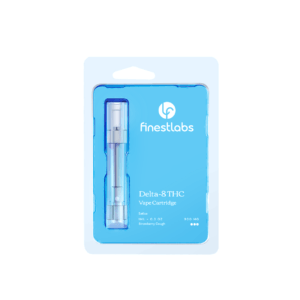 Add to Cart
Suggested Use

Use with caution. For use with any 510 threaded battery of your choice. Simply screw on and activate.

Warning

Prohibited for those under 21 years of age/legal age of consumption. Do not operate heavy machinery while using this product. Do not use if pregnant or breastfeeding

Ingredients

Hemp extract and Natural Terpenes. Contains <0.3% Delta 9 THC. Derived from Registered Industrial Hemp

Serving Size

5mg per Draw (180 Servings)
Finest Labs Vape Cartridges
There are four reasons why our vapes are so popular today. We've been mentioned among the top brands in the industry by sources including LA Weekly, Observer, & more.
Here's what makes our cartridges special:
They're cost-effective
Inhaled forms of THC are much more efficient than other methods. It's much easier for delta 8 (and other cannabinoids) to absorb through the capillaries in the lungs than it is through the digestive tract.
They're convenient
Our vape pens use CCELL technology, which enables for rapid heating and cooling of the element. Simply pull out your pen for a quick puff and toss it back in your pocket when you're done. There's no need to wait for the pen to heat up or cool down when you want to use it.
They're powerful
You just need a few puffs of these vapes to feel the effects. It only takes a few minutes for the delta 8 to move from your lungs to your brain. Be cautious when using Finest Lab delta 8 cartridges for the first time, a little goes a long way.
They taste great
Our vape pens are flavored with a blend of terpenes derived from the hemp plant. Terpenes are our specialty, so we've made sure to put together a blend that's going to knock your socks off. We offer our cartridges in a berry flavor at the moment, but plan to release several more flavors in the coming months — so stay tuned!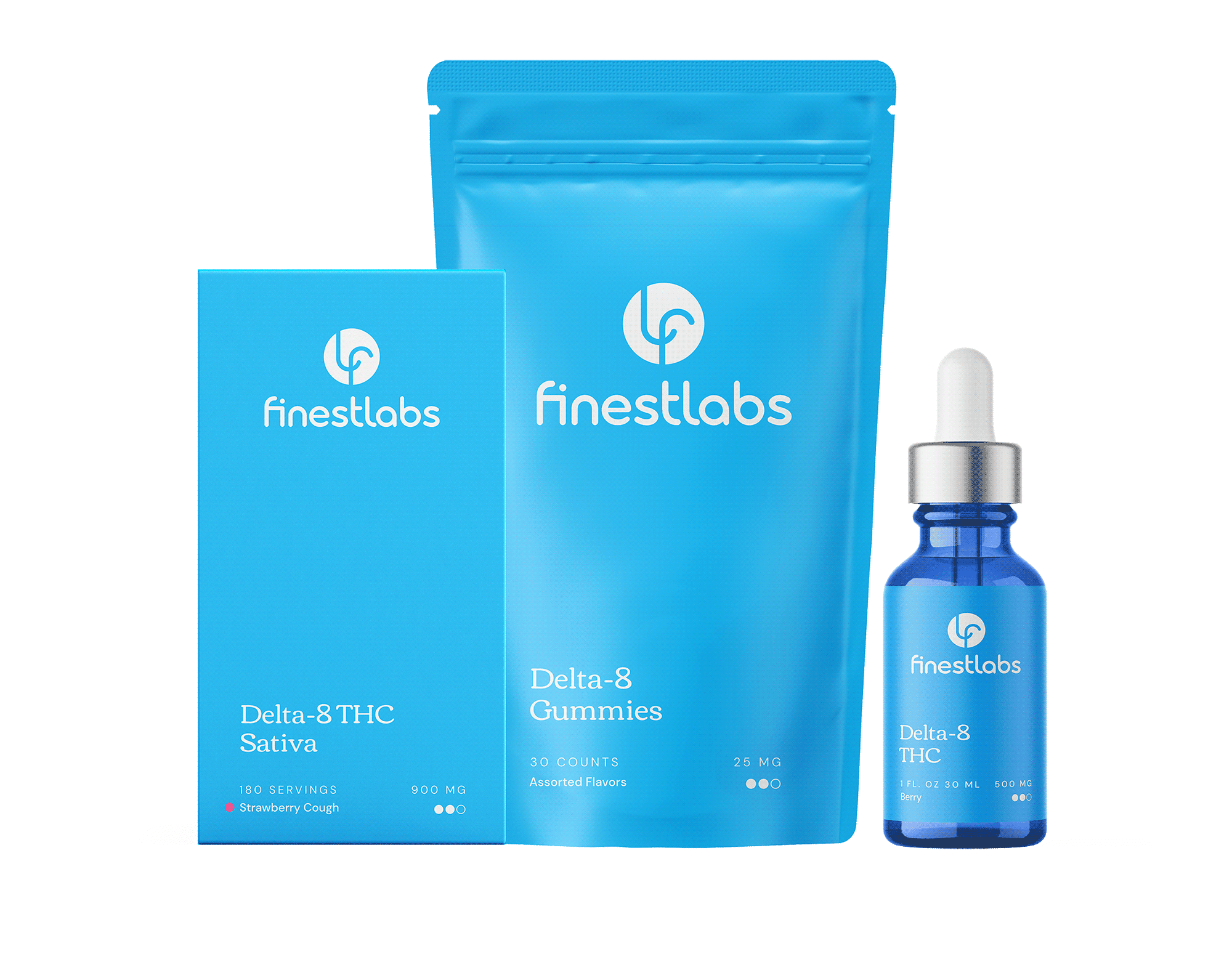 The Technical Details
225 draws
Estimated number of draws per cartridge
Ordering Vapes Online in 2021
Despite some recent hurdles implemented by the US government when it comes to ordering vapes online, they remain one of the most popular means of administering these useful compounds.
Our team has worked around the clock to prevent any delays when ordering vape products online. We've been able to distill the process down to just one additional step — at checkout, you'll need to complete a quick age verification process before you can place your order. This process is to ensure nobody under the age of 21 are able to purchase products from our website.
Premium Hemp-Derived Δ8 THC
Delta 8 THC is found in nature but in very low concentrations. Even marijuana plants only produce trace concentrations of delta 8 THC.
We use state-of-the-art extraction techniques to isolate our delta 8 THC from industrial hemp plants. Through a process called isomerization, we're able to create highly pure crude extracts rich in delta 8 THC. Using other advanced techniques, we then remove all the other cannabinoids, including CBD, CBC, CBG, CBN, and delta 9 THC from the extract.
Independently Tested
In our ongoing mission for inclusion, we've decided to skip the traditional gummy recipe and go for a plant-based version instead. We use a plant-derived pectin base instead of gelatin. They're completely gluten-free and contain no synthetic additives without sacrificing the delicious gummy texture you'd expect from a premium gummy candy.
PACT Compliant
Third-party testing has become the gold-standard in the cannabis industry — and for good reason. There's a lot of underpowered delta 8 products being marketed as "premium products" these days, and even more that contain small amounts of residual solvents or leftover chemicals from the extraction process.
The only way to prove a given product is clean, pure, and as potent as the company claims is to pay an independent lab to test a sample.
We value transparency, and take the time and effort to have a sample from every batch of our gummies tested. You can find the test results on our lab analysis page.
Frequently Asked Questions
What is Delta 8 THC?
Delta 8 THC is a cannabinoid in the THC class. There are several different forms of THC, but the most common, by far, is delta 9 THC.
Both delta 8 and delta 9 are produced naturally in cannabis plants — but for every molecule of delta 8 there's 99+ of the delta 9 isomer. As such, delta 8 THC is only produced in trace amounts in cannabis plants, which has allowed this cannabinoid to go overlooked for many years.
Today, through modern extraction methods we're able to isolate delta 8 THC from hemp plants in high concentrations. It's become very popular as an alternative to other THC extracts because of it's more relaxed nature. People who find other cannabis extracts make them too stimulated will likely find delta 8 a pleasant alternative.
How Should I Store My Vape?
Delta 8 THC is a very stable compound, but it's still subject to degradation under exposure to UV light, heat, or oxygen from the environment.
Our vapes come sealed in a glass container to prevent the contents from breaking down as quickly, but it's still important to keep your carts out of direct sunlight. It's also wise to keep your carts in an area that isn't too hot, and to avoid breaking the seal on the cart itself.
When stored in a cool, dark place, these carts will remain viable for many years.
What Are the Benefits of Vaping?
There are a few reasons someone may choose to vaporize their delta 8 THC.
Vapes have a rapid onset of effects — hitting the brain within about 10 minutes of taking your first puff (often even quicker).
Vapes also allow users to conveniently and stealthily take various doses throughout the day. Pop out your pen, take a few puffs, and put it back. The tiny heating elements built-in to these cartridges heat up and cool down within just a few short seconds, so there's not time necessary to prepare or preheat the pen.
What Vape Batteries Will These Carts Fit?
Our cartridges are designed to fit any 510 threading vape battery — which is the standard battery available on the market.
Several years ago, vape manufacturers got together and decided to standardize the connection for their pens — opening their products up to a massive selection of prefilled cartridges. We've tried our pens on dozens of different battery manufacturers and have yet to find one that doesn't fit.
However, we have found that some of the cheap vape batteries found on places like Alibaba or Ebay don't fit quite as snugly — but any name brand battery maker in the US should fit perfectly fine.
What Our Customers Are Saying