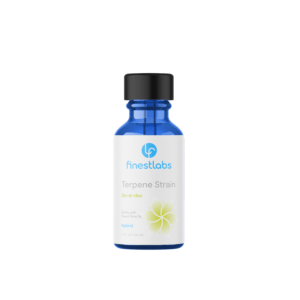 Add to Cart
Ingredients

Myrcene, β-Caryophyllene, Limonene, Linalool, Guaiol, Humulene, Nerolidol, β-Pinene, α-Bisabolol, Bitter Almond Oil Unspecified Data not available. 8013-76-1, p-Tolualdehyde, β-Damascone, α-Terpineol, α-Pinene, Valencene, Anisyl acetate, Nootkatone, Fenchol, Caryophyllene oxide, Benzyl acetate, Citral diethyl acetal, Citronellal, β-Ionone, Camphene, Borneol, Geraniol, Furfural, Ethyl Vanillin, Maltol, Trans-2-hexenol, Citronellol, Grapefruit mercaptan.

Caution

This product is intended for use only by adults 21 or older.

Keep out of reach of children and pets. Do not use if you are pregnant, nursing, or a person with or at risk of serious heath conditions. This product has not been evaluated for safe use in e-cigarettes or any vaping application where the product(s) is/are intentionally vaporized and inhaled.
Effect Profile
The effects of this strain are best described as "warming and uplifting," with effects that radiate from the body upwards toward the head.
It's a good blend for use in the evening to help relax the body and facilitate sleep, but it isn't sedating.
As the effects travel into the mind, users report feelings of peace and tranquility. The mind feels light and clear as stress seems to temporarily melt away and muscles in the neck and temples loosen their grip.
Last Updated This Week
FAQ
What Are Terpenes?
Terpenes are responsible for the characteristic aroma of many species of plants. Every time you get a whiff of pine, mint, lemon, lavender, or rosemary — you're detecting the terpenes these plants release into the air.
There are an estimated 30,000 individual terpenes produced in nature, each one with its own distinct set of effects and aroma.
How Much Should I Dilute My Terpenes?
Terpenes should be diluted to a concentration of 5% or below in the final product.
Using this pure, ultra-concentrated terpene blend directly on the skin can cause irritation and damage. Even in plants with the strongest terpene profiles never exceed 2% of the total dried weight.
Does This Blend Contain Any Additives?
No, we don't use any chemical additives, preservatives, stabilizers, flavorings, or diluents to any of our products.
Every bottle contains 100% pure plant-derived terpenes.
Do Finest Labs Terpenes Contain CBD or THC?
No, none of our terpene blends contain cannabinoids (including but not limited to CBD and THC).
While we do extract terpenes from cannabis, we use a process that effectively removes 100% of the non-terpene derivatives from the final product.
What's the Shelf-Life of Terpenes?
Terpenes will last many years in storage as long as they're kept in a cool, dark, and dry location. For maximum shelf-life, keep them in the same airtight container they arrived in, store them in a fridge (ideally one that doesn't also have food in it), and avoid opening the bottles unless totally necessary.
Terpenes don't go bad, but they can lose their potency over time.
If stored this way, terpenes should remain near 100% of their original potency for up to 3 years. They'll start to gradually lose potency every year after this.
Are Terpenes Psychoactive?
While there are some terpenes in nature that have psychoactive effects (such as Salvinorin A), none of our terpene extracts contain any psychoactive constituents.
What Our Customers Are Saying