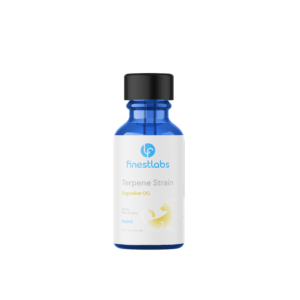 Add to Cart
Ingredients

Myrcene, β-Caryophyllene, Limonene, Linalool, Guaiol, Humulene, Nerolidol, β-Pinene, α-Bisabolol, Bitter Almond Oil Unspecified Data not available. 8013-76-1, p-Tolualdehyde, β-Damascone, α-Terpineol, α-Pinene, Valencene, Anisyl acetate, Nootkatone, Fenchol, Caryophyllene oxide, Benzyl acetate, Citral diethyl acetal, Citronellal, β-Ionone, Camphene, Borneol, Geraniol, Furfural, Ethyl Vanillin, Maltol, Trans-2-hexenol, Citronellol, Grapefruit mercaptan.

Caution

This product is intended for use only by adults 21 or older.

Keep out of reach of children and pets. Do not use if you are pregnant, nursing, or a person with or at risk of serious heath conditions. This product has not been evaluated for safe use in e-cigarettes or any vaping application where the product(s) is/are intentionally vaporized and inhaled.
Effect Profile
The effect profile of Dogwalker OG terpenes is just as complex as its aromatic profile. In lower concentrations, it promotes clear-headedness, improves focus and concentration, and is even suggested to enhance memory.
In higher concentrations, the strong base terpenes within this strain make it a great addition to sleep-supportive blends. It's not a sedative but helps prepare both the mind and body for a night of deep rest.
Last Updated This Week
FAQ
What Are Terpenes?
In most plants, the active compounds that provide the plant's characteristic aroma come from its terpene content.
Terpenes are abundant in nature — they're used to help ward off predators, attract pollinators, and defend the plant from the intense heat of the sun.
The term terpenes is used to describe the entire volatile fraction of a plant extract, but there are often other related compounds in here, too — such as phenols, oxides, aldehydes, and terpene-alcohols.
How Much Should I Dilute My Terpenes?
Terpenes should always be diluted down to a concentration of 5% or less before use. Most people dilute further, to around 2 or 3%.
These compounds are strong — a little bit goes a long way.
Does This Blend Contain Any Additives?
We don't add any synthetic preservatives, flavorings, or stabilizers to any of our products.
Terpenes act as their own preservatives and flavoring agents — there's no need to adulterate these products with anything extra.
What's the Shelf-Life of Terpenes?
Terpenes have a long shelf-life (2 or more years) if stored correctly.
The best way to keep terpenes long-term is to keep it in the airtight container they arrive in, avoid opening the bottle unless completely necessary and storing the bottles in a cool, dark, and dry location.
You can keep your terpenes in the fridge if you intend to store them for more than a year.
What's the Lineage of Dogwalker OG?
Dogwalker OG was bred from Albert Walker OG (hybrid) with Chemdawg 91 (sativa).
The genetics of this strain are believed to come from Nepal, Thailand, and Afghanistan.
What Our Customers Are Saying