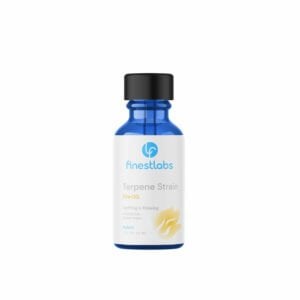 Add to Cart
Ingredients

Myrcene, β-Caryophyllene, Limonene, Linalool, Guaiol, Humulene, Nerolidol, β-Pinene, α-Bisabolol, Bitter Almond Oil Unspecified Data not available. 8013-76-1, p-Tolualdehyde, β-Damascone, α-Terpineol, α-Pinene, Valencene, Anisyl acetate, Nootkatone, Fenchol, Caryophyllene oxide, Benzyl acetate, Citral diethyl acetal, Citronellal, β-Ionone, Camphene, Borneol, Geraniol, Furfural, Ethyl Vanillin, Maltol, Trans-2-hexenol, Citronellol, Grapefruit mercaptan.

Caution

This product is intended for use only by adults 21 or older.

Keep out of reach of children and pets. Do not use if you are pregnant, nursing, or a person with or at risk of serious heath conditions. This product has not been evaluated for safe use in e-cigarettes or any vaping application where the product(s) is/are intentionally vaporized and inhaled.
Effect Profile
Much like the aroma, the effect profile of this blend is highly complex. It's uplifting and euphoric at first but fades into a more relaxing and sedating quality later on.
This is a good all-arounder and a great addition to blends targeting focus, stimulation, and mood. It has a spiciness that makes it distinct from other flavor profiles.
Fire OG goes well with products that have a strong heady component. The naturally occurring strain is one of the highest THC concentrations available, and this terpene profile seems to balance out the effects quite nicely.
Last Updated This Week
FAQ
What Are Terpenes?
Terpenes are a large and diverse class of compounds responsible for a plant's characteristic aroma and effect profile. There are well over 30,000 terpenes in existence, each one chemically and aromatically distinct from the next.
Cannabis alone produces over 120 individual types of terpenes.
How Much Should I Dilute My Terpenes?
Finest Labs terpenes come in an ultra-concentrated form and need to be diluted first.
We recommend diluting the terpenes to 5% or less if using an oil or alcohol-based medium.
For water-based products, the dilution will need to be at 1% or less.
Does This Blend Contain Any Additives?
No. None of our terpenes contain any added chemicals, synthetic flavorings, or preservatives.
Terpenes in concentrated form serve as their own preservatives. They will not go rancid, nor do they need an added boost in flavor.
Do Finest Labs Terpenes Contain CBD or THC?
No. Our extraction methods separate the terpenes from other cannabis derivatives long before they enter the bottle.
How Long Do Terpenes Last?
Terpenes have a long shelf-life of around 2 or 3 years if stored correctly. Proper storage means keeping the terpenes in their original airtight container and storing them in a cool, dark location away from areas with lots of airflow or temperature changes (such as next to an air conditioner or vent).
You can store terpenes in the fridge to prolong the shelf life even further, but avoid moving them in and out of the refrigerator as much as possible.
What Our Customers Are Saying