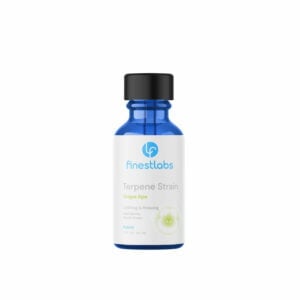 Add to Cart
Ingredients

Myrcene, β-Caryophyllene, Limonene, Linalool, Guaiol, Humulene, Nerolidol, β-Pinene, α-Bisabolol, Bitter Almond Oil Unspecified Data not available. 8013-76-1, p-Tolualdehyde, β-Damascone, α-Terpineol, α-Pinene, Valencene, Anisyl acetate, Nootkatone, Fenchol, Caryophyllene oxide, Benzyl acetate, Citral diethyl acetal, Citronellal, β-Ionone, Camphene, Borneol, Geraniol, Furfural, Ethyl Vanillin, Maltol, Trans-2-hexenol, Citronellol, Grapefruit mercaptan.

Caution

This product is intended for use only by adults 21 or older.

Keep out of reach of children and pets. Do not use if you are pregnant, nursing, or a person with or at risk of serious heath conditions. This product has not been evaluated for safe use in e-cigarettes or any vaping application where the product(s) is/are intentionally vaporized and inhaled.
Effect Profile
The Grape Ape terpene blend is notoriously relaxing and sedating. It's often added to blends formulated for the purpose of unwinding and chilling at the end of a busy day.
This relaxing effect owes itself to the high myrcene and beta-caryophyllene content of the blend.
Last Updated This Week
FAQ
What Are Terpenes?
There are well over 30,000 terpenes in existence. The cannabis plant alone produces around 120 unique terpenes — each of which has a distinct aroma and effect profile.
All terpenes share the same base structure — consisting of 5-carbon isoprene with a functional group attached. Terpenes further break down into subgroups, such as monoterpenes (C10), sesquiterpenes (C15), diterpenes (C20), and more.
How Much Should I Dilute My Terpenes?
Our terpenes come too concentrated to use alone. They need to be diluted to a concentration of 5% or less to be used safely.
Most products contain 2–4% terpenes based on the volume of the final product.
Does This Blend Contain Any Additives?
No. This blend doesn't contain any synthetic flavorings, chemical additives, or preservatives.
Do Finest Labs Terpenes Contain CBD or THC?
No. During production, all non-terpenoid derivatives from hemp or other botanical sources are removed before the blending process.
How Long Do Terpenes Last?
Our terpenes come in dark, airtight containers to optimize shelf-life. Keep your terpenes in a dark, cool location away from vents, air conditioners, or doorways.
If stored correctly, terpenes should remain viable for up to three years.
Are Terpenes Psychoactive?
No, terpenes are not psychoactive, but they may provide some pharmacological effect. Terpenes are well-known for their ability to interact with various organ systems in the human body — which is why these potent compounds need to be diluted before use.
What Our Customers Are Saying