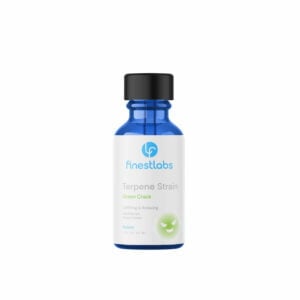 Add to Cart
Ingredients

Myrcene, β-Caryophyllene, Limonene, Linalool, Guaiol, Humulene, Nerolidol, β-Pinene, α-Bisabolol, Bitter Almond Oil Unspecified Data not available. 8013-76-1, p-Tolualdehyde, β-Damascone, α-Terpineol, α-Pinene, Valencene, Anisyl acetate, Nootkatone, Fenchol, Caryophyllene oxide, Benzyl acetate, Citral diethyl acetal, Citronellal, β-Ionone, Camphene, Borneol, Geraniol, Furfural, Ethyl Vanillin, Maltol, Trans-2-hexenol, Citronellol, Grapefruit mercaptan.

Caution

This product is intended for use only by adults 21 or older.

Keep out of reach of children and pets. Do not use if you are pregnant, nursing, or a person with or at risk of serious heath conditions. This product has not been evaluated for safe use in e-cigarettes or any vaping application where the product(s) is/are intentionally vaporized and inhaled.
Effect Profile
This terpene blend has a sharpening effect on cognition. It's energizing, uplifting, and euphoric, with soothing and relaxing qualities on the periphery.
This is the perfect combination for enhancing creativity. It's stimulating enough to sharpen the mind and get ideas flowing — but calming and euphoric enough to reduce friction and keep distractions at bay.
Last Updated This Week
FAQ
What Are Terpenes?
Terpenes are small hydrocarbons responsible for the aroma of various herbs and fruit. They're volatile compounds, which means they evaporate under low levels of heat.
As these compounds evaporate into the air, we're able to pick them up with our nose, producing what we perceive as a smell.
Terpenes are found throughout the plant kingdom and are especially abundant in the cannabis plant. Every plant manufactures a different ratio of terpenes, which is what leads to the diversity of aromas.
How Much Should I Dilute My Terpenes?
Our terpenes are extra concentrated, which means you need to dilute them before use. You should not ingest terpenes in pure form for any reason.
Our terpenes should be diluted to a concentration of about 1–5% of the total volume. This works out to just a few drops per standard 1 oz bottle of oil.
Terpenes can be added to alcohol or oil-based mixtures — such as creams, salves, oils, soaps, tinctures, or distillates.
Does This Blend Contain Any Additives?
We don't use any additives or preservatives in our products — just pure, unadulterated terpenes.
No PG, VG, alcohol, MCT oil, vitamin E, or synthetic flavorings are inside.
Do Finest Labs Terpenes Contain CBD or THC?
We don't use any additives or preservatives in our products — just pure, unadulterated terpenes.
No PG, VG, alcohol, MCT oil, vitamin E, or synthetic flavorings are inside.
How Long Do Terpenes Last?
Terpenes will remain viable for 2 or 3 years if stored correctly in an airtight container (included with your purchase) and out of direct sunlight. Keep your terpenes in the original container somewhere cool and away from light, and you'll be able to keep them safe for years to come.
You can also store your terpenes in a refrigerator if you plan to keep them for longer than six months.
How Are Finest Labs Terpene Blends Made?
We make terpenes using several different methods, depending on the target terpene. We use techniques such as steam distillation, supercritical CO2, thin-film distillation, and more.
Our team of master perfumers then recombine the individual components to match the aromas of popular cannabis strains.
What Our Customers Are Saying