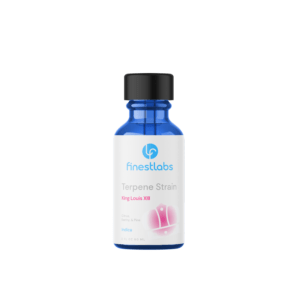 Add to Cart
Ingredients

Myrcene, β-Caryophyllene, Limonene, Linalool, Guaiol, Humulene, Nerolidol, β-Pinene, α-Bisabolol, Bitter Almond Oil Unspecified Data not available. 8013-76-1, p-Tolualdehyde, β-Damascone, α-Terpineol, α-Pinene, Valencene, Anisyl acetate, Nootkatone, Fenchol, Caryophyllene oxide, Benzyl acetate, Citral diethyl acetal, Citronellal, β-Ionone, Camphene, Borneol, Geraniol, Furfural, Ethyl Vanillin, Maltol, Trans-2-hexenol, Citronellol, Grapefruit mercaptan.

Caution

This product is intended for use only by adults 21 or older.

Keep out of reach of children and pets. Do not use if you are pregnant, nursing, or a person with or at risk of serious heath conditions. This product has not been evaluated for safe use in e-cigarettes or any vaping application where the product(s) is/are intentionally vaporized and inhaled.
Effect Profile
If we had to summarize the effects of this blend in one word, it would be "placid." Mood feels stable — not too stimulated, nor sedated. You feel alert but carefree and relaxed.
This strain has an even distribution of the tranquilizing and analgesic terpenes beta-caryophyllene and myrcene. It's backed up by euphoric and uplifting compounds such as limonene, valencine, nerolidol, and citronellol.
Last Updated This Week
FAQ
What Are Terpenes?
Terpenes are small, volatile compounds produced in many plants. They're small enough o evaporate into the air, which triggers olfactory receptors in the nose to register their distinct aroma.
Terpenes are responsible for the characteristic aroma of many plants — including mint, lavender, citrus fruits, pine trees, and much more.
Are Terpenes Psychoactive?
While there are terpenes in nature that have psychoactive effects, none of the ingredients in any of our terpenes blends are psychoactive.
How Much Should I Dilute My Terpenes?
Terpenes are not safe to use in concentrated form. They must be diluted prior to use.
The recommended dilution is 5% or below based on the volume of the final product.
Does This Blend Contain Any Additives?
We don't add any artificial flavorings, preservatives, or stabilizers in any of our terpene blends. This product contains nothing but pure, unadulterated terpenes.
How Long Can I Store Terpenes?
Terpenes have a long shelf-life, but only if stored properly (cool, dry, dark location). For maximum shelf-life, keep the terpenes sealed in the container they come in, and store them in the fridge.
After two years in storage, terpenes may start to break down gradually. Terpenes won't go bad, but they may lose some of their potency over the course of several years in storage.
Are Terpenes Psychoactive?
While there are some terpenes in nature that have psychoactive effects (such as Salvinorin A), none of our terpene extracts contain any psychoactive constituents.
What Our Customers Are Saying