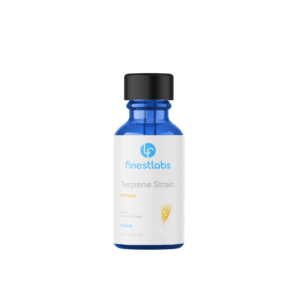 Add to Cart
Ingredients

Myrcene, β-Caryophyllene, Limonene, Linalool, Guaiol, Humulene, Nerolidol, β-Pinene, α-Bisabolol, Bitter Almond Oil Unspecified Data not available. 8013-76-1, p-Tolualdehyde, β-Damascone, α-Terpineol, α-Pinene, Valencene, Anisyl acetate, Nootkatone, Fenchol, Caryophyllene oxide, Benzyl acetate, Citral diethyl acetal, Citronellal, β-Ionone, Camphene, Borneol, Geraniol, Furfural, Ethyl Vanillin, Maltol, Trans-2-hexenol, Citronellol, Grapefruit mercaptan.

Caution

This product is intended for use only by adults 21 or older.

Keep out of reach of children and pets. Do not use if you are pregnant, nursing, or a person with or at risk of serious heath conditions. This product has not been evaluated for safe use in e-cigarettes or any vaping application where the product(s) is/are intentionally vaporized and inhaled.
Effect Profile
Mimosa is equal parts euphoric and relaxing. Its fast-acting euphoric qualities boost mood and dissolve feelings of agitation and mental rigidity. The after-effects fade into a feeling of lightness, almost as though one is on autopilot.
This strain is a great addition to blends optimized for stress reduction and mood support, but it's versatile enough to use in just about any formula.
Last Updated This Week
FAQ
What Are Terpenes?
Terpenes are small, aromatic hydrocarbons found throughout the plant kingdom. Many plants produce terpenes to help ward off predators, attract pollinators or other allies, and are even involved in cloud-seeding.
Terpenes have a low evaporation point, which enables them to diffuse into the air where they're picked up by our noses. This is what gives plants like cannabis, lavender, rosemary, and mint their distinct flavor.
How Much Should I Dilute My Terpenes?
Terpenes should never be used in concentrated form. They're exceptionally strong and can irritate the skin or mucous membranes if they aren't diluted before use.
Aim to dilute terpenes down to about 5% of the total volume of the final product.
Does This Blend Contain Any Additives?
No, none of our terpene blends contain any added ingredients — just pure, unadulterated terpene concentrates.
Do Finest Labs Terpenes Contain CBD or THC?
No. None of our terpenes contain CBD, THC, or any other cannabinoid.
Terpenes are an entirely different class of chemical from cannabinoids like CBD or THC. During our hydrodistillation process, all the volatile components are separated from cannabinoids or other cannabis-derived ingredients.
How Long Can I Store My Terpenes?
Terpenes have a very long shelf life if stored properly. Keep your terpenes in the included airtight bottles to prevent premature degradation from oxygen, and always store in a cool, dry, and dark location.
For long-term storage, keep your terpenes in a fridge — but avoid taking the bottle out of the fridge as much as possible. Frequent shifts in temperature could damage the active terpenes and reduce the effectiveness of the concentrate.
What Our Customers Are Saying