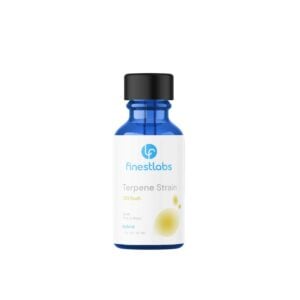 Add to Cart
Ingredients

Limonene, Myrcene, β-Caryophyllene, Linalool, β-Pinene, Humulene, Fenchol, α-Terpineol, α-Pinene, α-Bisabolol, Camphene, Borneol, Pulegone, Citronellol, Geraniol, Terpinolene, Caryophyllene oxide, Nerolidol, Valencene, Sabinene.

Caution

This product is intended for use only by adults 21 or older.

Keep out of reach of children and pets.
Do not use if you are pregnant, nursing, or a person with or at risk of serious heath conditions. This product has not been evaluated for safe use in e-cigarettes or any vaping application where the product(s) is/are intentionally vaporized and inhaled.
Effect Profile
The woody aromatics of the OG Kush strain give it a particularly strong 'grounding' action. Users report feeling rooted and unassailable. It's often used to enhance focus and concentration, meditate, or relax at the end of a long day as bedtime approaches.
Last Updated This Week
FAQ
Terpenes vs. Essential Oils: What's The Difference?
Essential oils refer to the volatile components of plants. They consist of terpenes as well as a variety of other volatile ingredients, such as ketones, esters, and polyphenols.
Terpenes are a specific subset of essential oils that contain at least one isoprene unit. There are monoterpenes (one isoprene), diterpenes (two isoprenes), and sesquiterpenes (3 or more isoprenes).
How Do I Use Terpene Concentrates?
Our products come in concentrated form and need to be diluted before they're safe to use. Pure, undiluted terpenes can be irritating to the skin, lungs, and mucus membranes.
Aim to dilute these terpenes to about 5% of the total volume of the product or less. Most products contain a concentration of 1–3% terpenes by volume.
Does This Blend Contain Any Additives?
No, we only use pure, unadulterated terpenes in all of our strains. We don't add any synthetic flavoring, sweeteners, carrier oils, fillers, cannabinoids, preservatives, or anything else.
How Should I Store My Terpenes?
Terpenes will remain active for a long time if kept in a cool, dark, and dry location. For long-term storage, keep the unopened terpene bottle in the fridge or freezer.
Terpenes that haven't been stored correctly will start to lose their taste and potency.
What Does OG Kush Smell Like?
OG Kush is notoriously woody and earthy. The aroma is heavy and grounding, with notes of pine and citrus in the background.
What Our Customers Are Saying