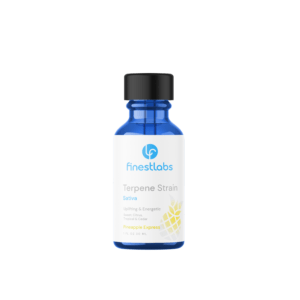 Add to Cart
Ingredients

β-Caryophyllene, β-Pinene, Limonene, Humulene, Linalool, Myrcene, α-Pinene, Ocimene, Terpinolene.

Caution

This product is intended for use only by adults 21 or older.

Keep out of reach of children and pets. Do not use if you are pregnant, nursing, or a person with or at risk of serious heath conditions. This product has not been evaluated for safe use in e-cigarettes or any vaping application where the product(s) is/are intentionally vaporized and inhaled.
Effect Profile
Pineapple Express is one of the most uplifting blends we carry, great for supporting mood, increasing cognitive energy, and inducing productive flow states. High in beta-pinene and myrcene, this blend is well-suited for dissolving mental strain and haziness.
Last Updated This Week
FAQ
What Are Terpenes?
Terpenes are found throughout the plant kingdom and account for the characteristic scent of plants like nutmeg, mango, citrus fruits, pine, lavender, and more.
Structurally, a terpene is a simple hydrocarbon molecule with a functional group attached.
Their light, volatile nature allows them to evaporate under relatively low temperatures. As these molecules evaporate into the air and enter the nostrils, they register characteristic aromas and flavors based on the functional group attached.
How Much Should I Dilute My Terpenes?
Finest Labs terpenes come in an ultra-concentrated form and must be diluted before use. Aim to dilute the terpenes to about 1–5% of the total volume.
Terpenes blend well with oil or alcohol-based mixtures and are well-suited for use in manufacturing topical creams and salves, oils, and tinctures. These terpenes can also be used in an aromatic diffuser or in candle or soap-making.
Does This Blend Contain Any Additives?
None of our terpene blends contain any additives — just pure, isolated terpenes. The magic comes from the ratio of each individual terpene; there are no fancy chemicals or flavor agents included in these formulas.
All Finest Labs terpenes are guaranteed to be free from propylene glycol, vegetable glycerine, alcohol, MCT oil, vitamin E, or synthetic flavoring.
Do Finest Labs Terpenes Contain CBD or THC?
None of our terpenes contain CBD, THC, or any other cannabinoid. They're legal worldwide and have no psychoactive effects whatsoever.
How Long Do Terpenes Last?
Our terpene blends remain viable for several years as long as they're stored correctly. For best results, keep your terpenes in the original container, in a cool, dry, and dark location. If you plan to store these terpenes for more than six months, it's best to keep them in a refrigerator.
How Are Finest Labs Terpene Blends Made?
Our terpene blends are made by isolating and concentrating botanically-derived terpenes through steam distillation and supercritical CO2. Our team of master perfumers then recreate the aromatic profile of cannabis strains by recombining the ingredients in optimal ratios.
What Our Customers Are Saying