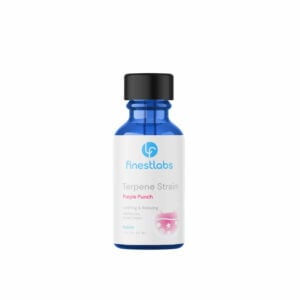 Add to Cart
Ingredients

Myrcene, β-Caryophyllene, Limonene, Linalool, Guaiol, Humulene, Nerolidol, β-Pinene, α-Bisabolol, Bitter Almond Oil Unspecified Data not available. 8013-76-1, p-Tolualdehyde, β-Damascone, α-Terpineol, α-Pinene, Valencene, Anisyl acetate, Nootkatone, Fenchol, Caryophyllene oxide, Benzyl acetate, Citral diethyl acetal, Citronellal, β-Ionone, Camphene, Borneol, Geraniol, Furfural, Ethyl Vanillin, Maltol, Trans-2-hexenol, Citronellol, Grapefruit mercaptan.

Caution

This product is intended for use only by adults 21 or older.

Keep out of reach of children and pets. Do not use if you are pregnant, nursing, or a person with or at risk of serious heath conditions. This product has not been evaluated for safe use in e-cigarettes or any vaping application where the product(s) is/are intentionally vaporized and inhaled.
Effect Profile
The name of this strain likely comes from its fruit-punch-like flavor, but there's a double meaning to it — this is the cannabis equivalent of Mike Tyson — capable of one-punch knockouts.
The terpenes of this strain have a particularly strong body load, causing the muscles to relax and decompress — releasing any residual tension.
This strain is an excellent blend for those looking for a pleasant fruity flavor but like the idea of using a more calming and decompressing option. Most fruity terpene blends weigh in stronger on the stimulating and energizing side, rather than heavy and relaxing.
Last Updated This Week
FAQ
What Are Terpenes?
Terpene is a term for the volatile constituents of plants. It includes compounds classified as monoterpenes, diterpenes, triterpenes, sesquiterpenes, and more — each one slightly different from the next.
Terpenes are volatile, which means they evaporate into the air. This feature allows us to register them in our olfactory glands (AKA we can smell them).
Many plants make terpenes, including cannabis. Every cannabis strain produces an entirely different blend of terpenes — owing to its unique aroma.
How Much Should I Dilute My Terpenes?
Terpenes should be diluted to a concentration of 5% or less of the total volume of the final product. Concentrated terpenes can be harmful in their pure form and should always be diluted before use.
Does This Blend Contain Any Additives?
No, none of our terpene blends contain any additives or preservatives. Our containers are airtight, and the terpene content is so pure it serves as its own preservative.
Do Finest Labs Terpenes Contain CBD or THC?
No, terpenes are entirely different than cannabinoids, and our production process eliminates 100% of the CBD and THC from the final process.
How Long Do Terpenes Last?
Terpenes will last for 2 or 3 years and remain near 100% viability if stored in a cool, dark location. Keep terpenes in their original airtight container and store them in the fridge if you plan to keep them longer than six months.
Are Terpenes Safe?
Terpenes are safe when used in the correct dose. You should never use terpenes from any source in their pure form. It's essential to dilute terpenes to a safe level (around 5%).
Terpenes are non-psychoactive and have been studied extensively throughout the years for their potential therapeutic benefits. So far, the research has been promising.
What Our Customers Are Saying