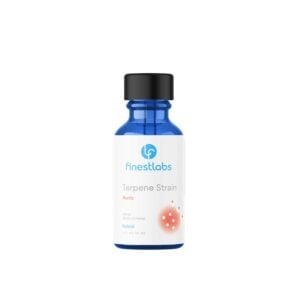 Add to Cart
Ingredients

β-Caryophyllene, Humulene, Limonene, Linalool, α-Terpineol, Fenchol, α-Pinene, β-Pinene, Geranyl Isovalerate, Citronellol, Caryophyllene oxide, Myrcene, Borneol, Cadinene, Camphene, Isoborneol, Farnesene.

Caution

This product is intended for use only by adults 21 or older.

Keep out of reach of children and pets.
Do not use if you are pregnant, nursing, or a person with or at risk of serious heath conditions. This product has not been evaluated for safe use in e-cigarettes or any vaping application where the product(s) is/are intentionally vaporized and inhaled.
Effect Profile
The effects of the Runtz strain are best described as uplifting and euphoric but are overall quite balanced. The effects of these terpenes (mostly beta-caryophyllene and humulene) are long-lasting and are often used to prolong the experience of other botanicals.
Last Updated This Week
FAQ
What Are Terpenes? How Are They Different From Essential Oils?
The term 'terpenes' is often used interchangeably with essential oils, but there are some semantic differences.
An essential oil is the raw volatile extract obtained from plants. Most plants contain 2% volatile ingredients or less. Most essential oils are primarily made up of terpenes, but there are other compounds in here as well — such as ketones and esterified compounds.
There are an estimated 30,000 individual terpenes found throughout the plant world (as well as some insects). These compounds account for the majority of the aromatic profile of plants.
How Do I Use Terpenes?
Terpenes come in an ultra-concentrated form. They need to be diluted in order to be used safely.
Most manufacturers will use about 1–3% terpenes by volume, but they can be used in concentrations up to 5% safely.
Terpenes are potent — a little bit goes a long way.
What's Inside A Bottle of Finest Labs Terpenes?
All our terpenes, including the Runtz strain, contain nothing but pure terpene isolates. We first extract these terpenes from plants, separate them, and then recombine them to match the terpene profile of the Runtz strain.
None of our terpenes contain added flavorings, preservatives, cannabinoids, synthetic ingredients, or fillers of any kind.
Do Finest Labs Terpenes Contain CBD or THC?
No. While some of our terpenes are derived from cannabis, we use a series of steps to purify and remove any of the non-volatile ingredients — including CBD, THC, and other cannabinoids.
How Should I Store My Terpenes?
For optimal shelf-life, keep your terpenes sealed in the container they arrived in. Store them out of direct light in a cool, dark, and dry location. Open the bottle only when necessary, and always seal the lid when you're done using it.
What Does The Runtz Strain Smell Like?
Runtz has a characteristically sweet, sugary, and fruity aroma (mostly citrus fruits). The aroma closely resembles the Runtz candies often seen at movie theaters and candy shops.
What Our Customers Are Saying