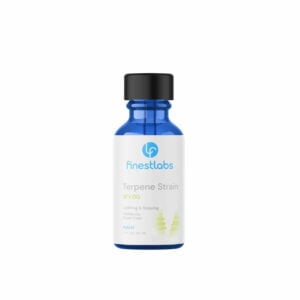 Add to Cart
Ingredients

Myrcene, β-Caryophyllene, Limonene, Linalool, Guaiol, Humulene, Nerolidol, β-Pinene, α-Bisabolol, Bitter Almond Oil Unspecified Data not available. 8013-76-1, p-Tolualdehyde, β-Damascone, α-Terpineol, α-Pinene, Valencene, Anisyl acetate, Nootkatone, Fenchol, Caryophyllene oxide, Benzyl acetate, Citral diethyl acetal, Citronellal, β-Ionone, Camphene, Borneol, Geraniol, Furfural, Ethyl Vanillin, Maltol, Trans-2-hexenol, Citronellol, Grapefruit mercaptan.

Caution

This product is intended for use only by adults 21 or older.

Keep out of reach of children and pets. Do not use if you are pregnant, nursing, or a person with or at risk of serious heath conditions. This product has not been evaluated for safe use in e-cigarettes or any vaping application where the product(s) is/are intentionally vaporized and inhaled.
Effect Profile
The SFV OG blend is a great all-arounder. It's relaxing and has euphoric and creativity-boosting qualities largely due to the high alpha and beta-pinene content.
This is an excellent choice for those who like a woody aroma without the strong sedating action that comes with most of the heavier, earthier blends.
Last Updated This Week
FAQ
What Are Terpenes?
Plants get their characteristic aromas from chemical constituents called terpenes. These compounds are volatile, which means they evaporate into the air, where they're picked up by olfactory glands in the nose.
There are many different kinds of terpenes, each one with a distinct aroma and effect profile.
How Much Should I Dilute My Terpenes?
These highly concentrated terpenes should never be used at full strength. You'll need to dilute them down to a concentration of 5% or less.
Terpenes blend best with oil or alcohol-based mediums. Bring the dilution down to around 1% or less if using a water-based product.
Does This Blend Contain Any Additives?
No. none of our terpene blends contain chemical additives, synthetic flavorings, or preservatives. We use pure terpenes to make all our blends.
Do Finest Labs Terpenes Contain CBD or THC?
No. Our extraction process removes the cannabinoids or other non-terpenoid derivatives prior to blending.
How Long Do Terpenes Last?
No. Our extraction process removes the cannabinoids or other non-terpenoid derivatives prior to blending.
What Our Customers Are Saying