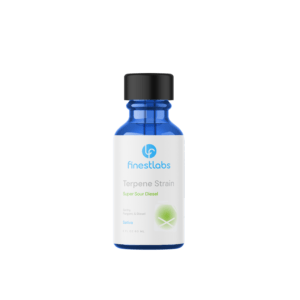 Add to Cart
Ingredients

Myrcene, β-Caryophyllene, Limonene, Linalool, Guaiol, Humulene, Nerolidol, β-Pinene, α-Bisabolol, Bitter Almond Oil Unspecified Data not available. 8013-76-1, p-Tolualdehyde, β-Damascone, α-Terpineol, α-Pinene, Valencene, Anisyl acetate, Nootkatone, Fenchol, Caryophyllene oxide, Benzyl acetate, Citral diethyl acetal, Citronellal, β-Ionone, Camphene, Borneol, Geraniol, Furfural, Ethyl Vanillin, Maltol, Trans-2-hexenol, Citronellol, Grapefruit mercaptan.

Caution

This product is intended for use only by adults 21 or older.

Keep out of reach of children and pets. Do not use if you are pregnant, nursing, or a person with or at risk of serious heath conditions. This product has not been evaluated for safe use in e-cigarettes or any vaping application where the product(s) is/are intentionally vaporized and inhaled.
Effect Profile
The terpene blend from Super Sour Diesel has a unique effect profile because it's both grounding and cerebral. The grounding action comes from the high beta-caryophyllene and myrcene content — while the cerebral effect stems from the uniquely high valencine and nerolidol content.
This is an excellent strain to use in focus blends or as a base note in products aimed at reducing stress levels.
Last Updated This Week
FAQ
What Are Terpenes?
Terpenes are a diverse group of compounds found throughout nature. There are an estimated 30,000 known terpenes — each one with its own distinct aroma.
Terpenes have a low evaporation point. As they evaporate into the air, they're picked up by the olfactory receptors in our nose — which is what registers their distinct aroma.
Plants such as lemons, lavender, rosemary, lilac, and cannabis all owe their aromas to their terpene profiles.
How Much Should I Dilute My Terpenes?
These terpenes come in ultra-concentrated form. They're too strong to use in pure form and need to be diluted before they're safe to use. We recommend diluting terpenes down to a concentration of just 5% of the total volume of the final product.
For vape products, it's best to dilute even further — down to just 2 or 3 percent of the total volume.
Does This Blend Contain Any Additives?
None of our terpene blends contain any additives — just pure terpene concentrates.
There's no need to add flavoring additives or preservatives to terpenes. These compounds already offer powerful flavor and resist the growth of bacteria and fungi on their own.
Do Finest Labs Terpenes Contain CBD or THC?
No. None of our terpene blends contain CBD, THC, or any other cannabinoids or phytochemicals. All of these compounds are removed during the extraction process.
How Long Can I Store My Terpenes?
Terpenes have a long shelf-life and are naturally resistant to rotting. Terpenes won't go bad, but they can lose their potency over the course of several years.
Store your terpenes in the same airtight container they arrived in, keep them out of direct sunlight, and ensure they're kept cool. For long-term storage, keep your terpenes in the fridge and avoid opening the bottle unless completely necessary.
When stored this way, terpenes should remain viable for two years or longer.
What's the Origin of the Super Sour Diesel Strain?
Super Sour Diesel comes from a long lineage of famous cannabis strains. It's the direct offspring of Sour Diesel (hybrid) and Super Silver Haze (hybrid).
Other notable members in the Super Sour Diesel lineage include Northern Lights (indica), Chemdawg (sativa), Haze (sativa), and Skunk #1 (hybrid).
What Our Customers Are Saying