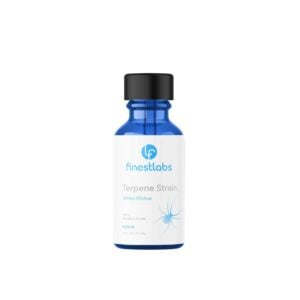 Add to Cart
Ingredients

α-Terpineol, β-Caryophyllene, Terpinolene, Humulene, Limonene, Isopulegol, β-Pinene, α-Pinene, Myrcene, Fenchol, δ-3-Carene, Valencene, Geranyl Isovalerate, α-Phellandrene, Cadinene, α-Terpinene.

Caution

This product is intended for use only by adults 21 or older.

Keep out of reach of children and pets.
Do not use if you are pregnant, nursing, or a person with or at risk of serious heath conditions. This product has not been evaluated for safe use in e-cigarettes or any vaping application where the product(s) is/are intentionally vaporized and inhaled.
Effect Profile
White Widow terpenes have a satisfying cerebral effect. The aroma is complex — first providing an uplifting feeling often described as "lightness" followed by an Earthy, grounding effect.
This strain is a perfect addition to add a subtle energy boost and enhance mental clarity. It's a popular addition to products designed to facilitate greater creativity and problem-solving capacity.
Last Updated This Week
FAQ
What Is a Terpene?
The term 'terpene' refers to a specific type of molecule found in the volatile oil component (essential oil) of many species of plants. There are several different types of terpenes, as well as related phytochemicals that often get grouped together under the term.
Terpenes provide much of the pharmacological actions of plants and account for the bulk of their flavor and aroma.
How Do I Use Terpenes?
Terpenes are best diluted prior to use. When adding terpenes to products, aim for a concentration of 5% or less of the total volume. You only need a small amount of terpenes for noticeable differences in flavor.
Does This Terpene Contain THC or CBD?
No, our terpenes consist of monoterpenes, diterpenes, sesquiterpenes, and various other volatile oil components. There are no CBD, THC, or other cannabinoids remaining in any of our terpene concentrates.
How Do I Store Terpenes?
Terpenes will remain active for a few years if kept in the same airtight container they arrive in and are only opened when completely necessary. It's important to store your terpenes in a cool, dark, and dry location.
For long-term storage, consider keeping your terpenes in the fridge.
Are Terpenes Psychoactive?
Some terpenes are technically psychoactive — but none of the products offered on the Finest Labs website contain these ingredients. Our terpenes are purely used for enhancing synergy and adding flavor.
What Does White Widow Taste Like?
White Widow has a woody and spicy aroma with earthy and herbal notes lingering in the background.
What Our Customers Are Saying