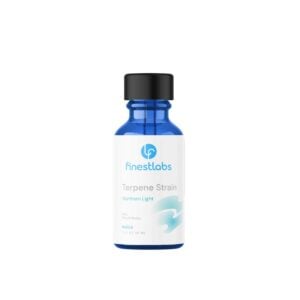 Add to Cart
Ingredients

Terpinolene, ß-Caryophyllene, Limonene, Myrcene, Ocimene, ß-Pinene, α-Pinene, α-Terpineol, Linalool, δ-3-Carene, α-Phellandrene, Fenchol, α-Terpinene, α-Bisabolol, Geraniol, Camphene, Camphor, Humulene, Cedrene, Sabinene, L-Menthol, Isoborneol.

Caution

This product is intended for use only by adults 21 or older.

Keep out of reach of children and pets.
Do not use if you are pregnant, nursing, or a person with or at risk of serious heath conditions. This product has not been evaluated for safe use in e-cigarettes or any vaping application where the product(s) is/are intentionally vaporized and inhaled.
Effect Profile
Northern Lights is a notably relaxing strain, as many indica varieties are. The terpenes in this blend largely consist of terpinolene and beta-caryophyllene — both of which are also abundant in the soothing and lucid strain, Bubba Kush.
This strain is popular in evening blends or products designed for relaxing the muscles, facilitating sleep, and releasing stress after a long day.
Last Updated This Week
FAQ
What is a Terpene? Are They Natural?
Terpenes are naturally-occurring compounds found throughout the plant kingdom. There are approximately 30 thousand of them in existence, with new terpenes being discovered every year.
These compounds provide the characteristic aroma of various plants — such as lilacs, rose, lavender, citrus fruits, pine trees, and much more.
Plants use terpenes to ward off predators, prevent infection, communicate with other plants, lure pollinators, and much more.
How Much Should I Dilute My Terpenes?
You should always dilute terpenes prior to use. Most manufacturers maintain a terpene concentration of around 1 to 3% in the final product. You can safely use most terpenes in concentrations up to 5% of the total volume of the product.
These compounds are powerful; you don't need much to get a strong effect.
What Additives Do Finest Labs Terpenes Contain?
We don't use any additives in our terpene concentrates. Just pure, unadulterated terpene isolates. We don't use fillers, preservatives, or synthetic ingredients of any kind.
Do Finest Labs Terpenes Contain CBD or THC?
No. None of our extracts contain CBD, THC, or any other cannabinoids. We use a process called hydrodistillation that removes 100% of the non-volatile ingredients, including cannabinoids.
What Does Northern Lights Strain Smell Like?
The Northern Lights strain is pungent. The aroma begins with base notes of hardwood, spice, and fresh earth, accompanied by top notes of fresh herbs and citrus fruit.
What Our Customers Are Saying